CYP Careers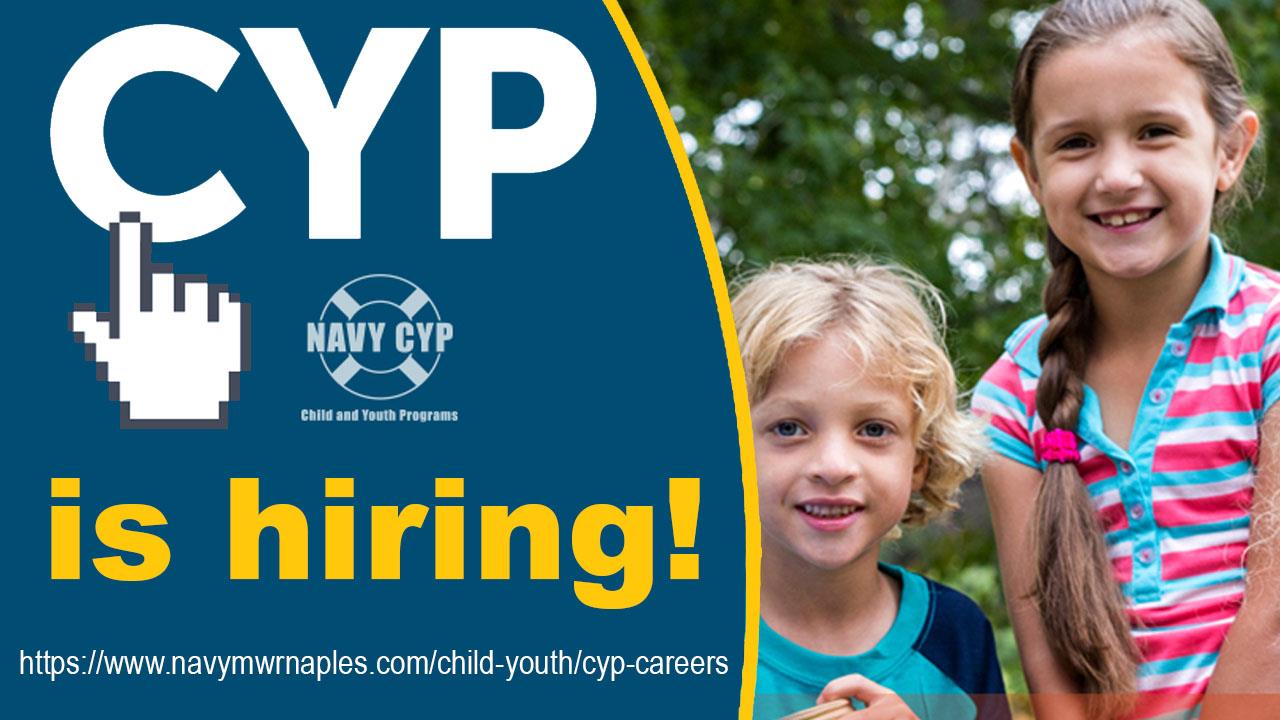 Make a difference! Build a career with Child and Youth Programs and get great benefits.
CYP Assistant, Flexible
Announcement number: EUR21-001R3
​Many vacancies!
Closing date: Jan. 27, 2021
https://www.usajobs.gov/GetJob/ViewDetails/588408800?t=1609748768773
CYP Custodian, Regular Full-Time (CDC, SAC, Teen Center)
Announcement number: EUR21-111
Closing date: Feb. 2, 2021
https://www.usajobs.gov/GetJob/ViewDetails/588431700?t=1609771524943
Additional MWR vacancies are available at www.navymwrnaples.com/jobs/mwr-jobs.
For a complete listing of jobs available in the Naples/Gaeta areas, U.S. Citizens and Local National, go to www.navymwrnaples.com/jobs
-----------------------------------------------------------------------------------------
Navy Child and Youth Programs (CYP) career opportunities available in Naples
Start your career today with the Naples Navy Child and Youth Programs (CYP). CYP is all about career opportunities, setting goals, developing your professional career and advancement within.
Navy Child and Youth professionals make a difference every day in the lives of children and their families, their friends, neighbors and communities. With defined career path training and an exceptional benefits and opportunities worldwide, you can end your job search and begin your career today.
• Career Path Training for Advancement
Built in training modules for guaranteed step increases within 6-24 months. Realistic transition to management within 5-10 years.
• Paid Career Development!
If you don't have a degree, Child & Youth Programs will help you obtain your Child Development Associate (CDA) or Military School-Age (MSA) credential which includes over 120 hours of formal training!
OR
Pursue an Undergraduate or Graduate degree in a field related to Child & Youth Development and be eligible to receive up to $4,000 annually in tuition assistance!
• Guaranteed transfer to other locations
Full-Time direct care staff are guaranteed a job at their next location with CYP's new transfer program! If you are being relocated due to a (military dependent) PCS move, we will guarantee a transfer to your new location with no break in service. That means you keep your status, all your leave and retirement benefits.
• Competitive wages
Federal tax-free COLA (Cost Of Living Adjustment) wage supplement based on location for Child Care providers
• Various Work schedules available
Positions always available for Full time, Part time and Flexible schedule employees. Find the position that fits your schedule
• Jobs with a Variety of Age Groups and Activities
Work with the age group or activity that fits you best
~Child Development Center (CDC) and Child Development Home (CDH) positions available from ages 6-weeks to Pre-Kindergarten!
~School Age Care (SAC) serves children in K-6th grade.
~Teen Center caters to the needs of teens in 7-12th grade and provides a fun and safe atmosphere to hang out and socialize with others in their age group.
~Youth Sports fosters growth with children 3-18 years through recreational exercise and athletics.
• Work at Nationally Accredited Facilities
• Employee uniforms provided
• Employer-sponsored full medical and dental insurance for qualified employees
• Employer-sponsored life insurance for qualified employees
• Defined benefit pension plan – guarantees a monthly payment for life
• 401(k) with a 3% employer match
• Employer-sponsored disability insurance
• Long-term health care insurance
• Paid leave for qualified employees
~13 days paid vacation per year
~13 days paid sick leave per year
~Vacation time increases with employment tenure
•Preferred acceptance of your own child into child care programs
Begin your path to a successful career today with Child and Youth Programs. There are opportunities available within the Naples CYP department.
For a current listing of positions available click on to http://www.navymwrnaples.com/jobs or call 081-568-4164/2505/5612 for more details.