Gaeta Fleet Recreation Center
COVID-19 Update
Per Italian decree, all people ages 12 years and older must show their CDC card, green pass, negative COVID-19 test within the last 48 hours or doctor's documentation of recovery within the last six months to enter this facility.
Face mask is required at all times, except when eating or drinking.
(updated Aug. 17, 2021)
------------------------------
The Fleet Recreation Center is a multi-use facility utilized by Sailors and families. It is equipped with travel books, DVDs, magazines, best novels from the Naples Library for check out and free paperback books, computer access and Wi-Fi, TVs, billiard table and NDVD Movie Program. A covered awning area is available for special events including AFE Shows, community functions, meetings and more. Individual activities may be reserved through the customer service desk.
The MWR Customer Service Desk is located at the Fleet Recreation Center. It is the one-stop "Info Central" shop. It provides extensive information and referral such as information on recreational activities, travel resources, do-it-yourself tour packages, registration of programs including tours and instructional classes.
Resale snack/food items and beverages are available, while patrons can relax and enjoy the panoramic view of the Gaeta Bay.
------------------------
Group Fitness Classes - momentarily suspended
MWR Gaeta offers free group fitness classes, led by professional instructor. Classes are open to all ages. No reservations necessary. Come enjoy!
Thursday, 3:30-4:30 p.m.
Animal Flow
(open to 5 years and older)
Friday, 9:30-10:30 a.m.
Yoga
(open to all ages)
Classes held at Fleet Recreation Center
No reservations necessary. First come, first served.
(Max 10 people per class)
For information, call 081-568-8357 / DSN 626-8357.
Reminder: If you are looking for fitness routines you can do from your home, balcony or garden, go to www.navymwrnaples.com/eurafcent-home/fitness-home.
(updated Sept. 24, 2021)
------------------------
Calendars
Download a copy of the Gaeta October calendar
------------------------------
Hours of operation
Fleet Recreation Center
Ship out
Monday-Friday, 10 a.m.-5 p.m.
Saturday-Sunday, closed
Ship in
Monday-Friday, 10 a.m.-10 p.m.
Saturday, 2-10 p.m.
Sunday, closed
-Open to all MWR-eligible patrons
Fleet Fitness Center
Daily, 5 a.m.- 8 p.m.
-Open to Active Duty only
-Open to all MWR-eligible patrons

Fleet Landing Outdoor Sports Complex
24/7.
-Open to all MWR-eligible patrons

Olde Mill Inn Park
Daily, 8 a.m.-dusk
------------------------------
Download a copy of the Gaeta Fleet Recreation Center guidelines
------------------------------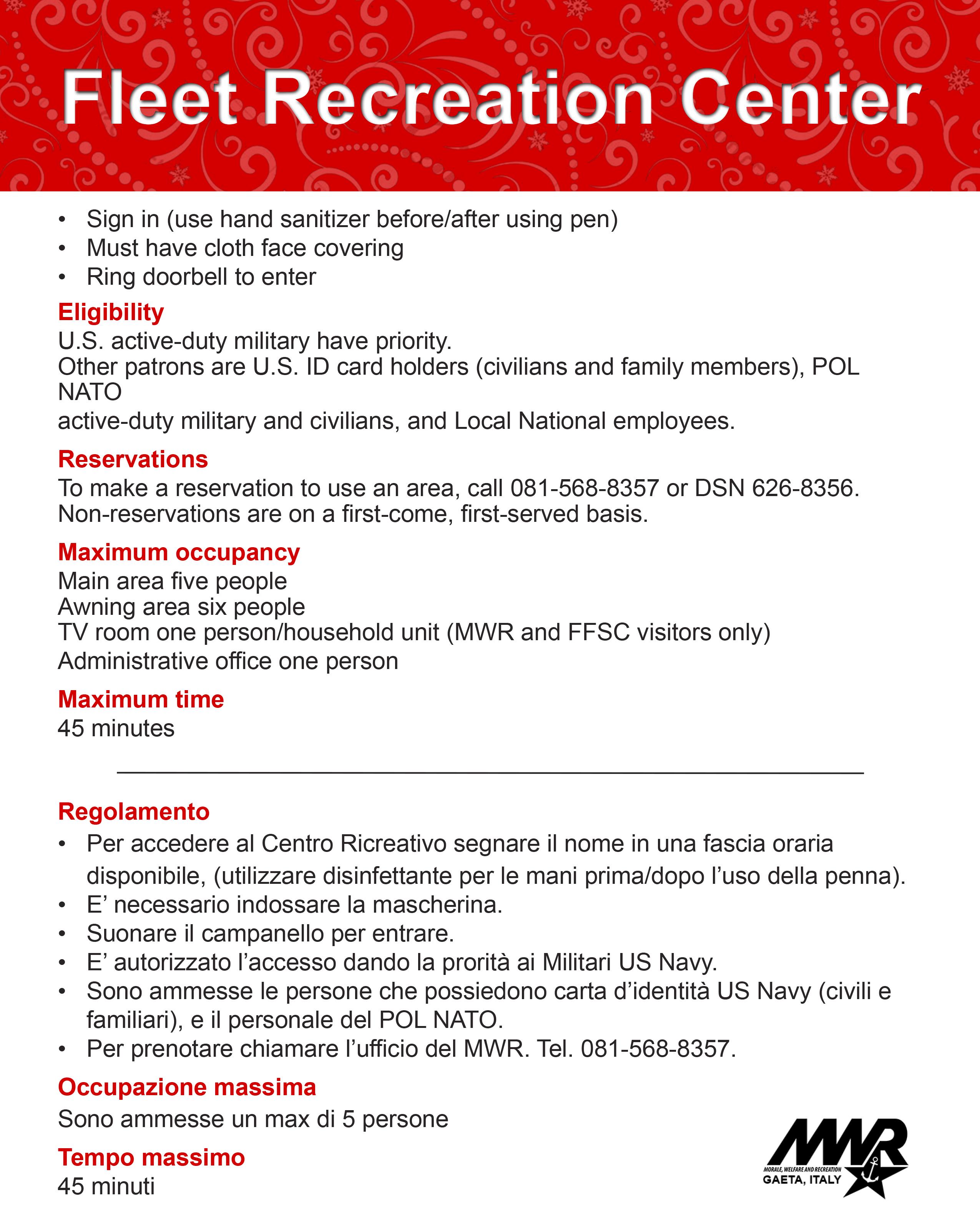 ------------------------------
For more on Gaeta facilities, click below:
Gaeta Fitness
Gaeta Olde Mill Inn Park & Complex
Services Offered
Information & Referral
Free Wi-Fi
Big Screen TVs
Pool Table
Travel Information
Library "Best Seller" & Travel Book Check-Out
Paperback Books & Magazines
NDVD Movie Program
Snacks, Resale Items
Patio & Awning areas
Basketball/Soccer ball issue
Wii Night
Karaoke Night
Movie Night
Create-A-Trip
Special activities & themes
Gaeta Fitness Centers
Gaeta Olde Mill Inn Park Sports & Complex