Youth Sports & Fitness
Youth Sports: Winter season
Jan. 9-March 11
Youth Sports winter season includes Basketball (5-18 year olds) and Cheer (6-15 year olds).
Participants will have one practice during the week and a game on Saturday, held at the Support Site Youth Center gym.
Registration
If your child(ren) were registered for Youth Sports this Fall, you need to complete the Youth Sports Supplemental Registration form only.
If your child(ren) were NOT registered for Youth Sports this Fall, a parent or guardian in the household must complete all forms/training in the registration packet below.
Deliver the Supplemental Registration form/registration packet and payment to the Support Site Youth Center 2-6 p.m. one of the following days:
Monday-Wednesday, Nov. 21-23
Monday-Wednesday, Nov. 28-30
Monday-Wednesday, Dec. 5-7
Registration packet
Important: If medical needs and/or allergies are denoted on the registration forms, your child's enrollment will require the following additional medical paperwork:
a) Medication Authorization Form
b) Medication Dispensation Log Form
c) Emergency Action Plan Form
Parent Youth Orientation Training certificate of completion (instructions below)
Code of Ethics, signed by parent/guardian (instructions below)
Child's immunization record must be enclosed in packet
Parent Orientation Training
This training must be done annually and is required to register your child for Youth Sports.
Click "Sign Up!" on the left
Click "Get Started!" Fill out contact information and enter your affiliation with "Naples Naval Support Activities" as location.
Be sure to enter your child(ren)'s first and last name
Watch all videos
You are finished
Save the certificate of completion
Code of Ethics
Click on training on the left
The Code of Ethics is at the bottom of the page
Please read, print and sign the code
Basketball Assessments
Basketball players ages 9-18 must attend the mandatory assessment:
Ages 9-11
Monday, Jan. 9, 3:30 p.m.
Support Site Youth Center gym
Ages 12-18
Tuesday, Jan. 10, 3:30 p.m.
Support Site Youth Center gym
For more information on Youth Sports, winter season sports or registration, please call 081-811-4722 / DSN 629-4722.
------------------------------------
Youth Sports & Fitness
Youth Sports & Fitness offers a variety of organized sporting activities that promote the psychological, social and physical well-being of youth. Recreational activities that enhance physical fitness, self-esteem, teamwork and leadership skills. CYP provides the staff, equipment and playing area necessary to facilitate the athletic and recreational development of children.
Sports include:
basketball
baseball
cheerleading
dodgeball
flag football
fun runs
soccer
softball
volleyball
Start Smart soccer and baseball development programs are available for 3-4-year-olds (parent participation is required)
------------------------------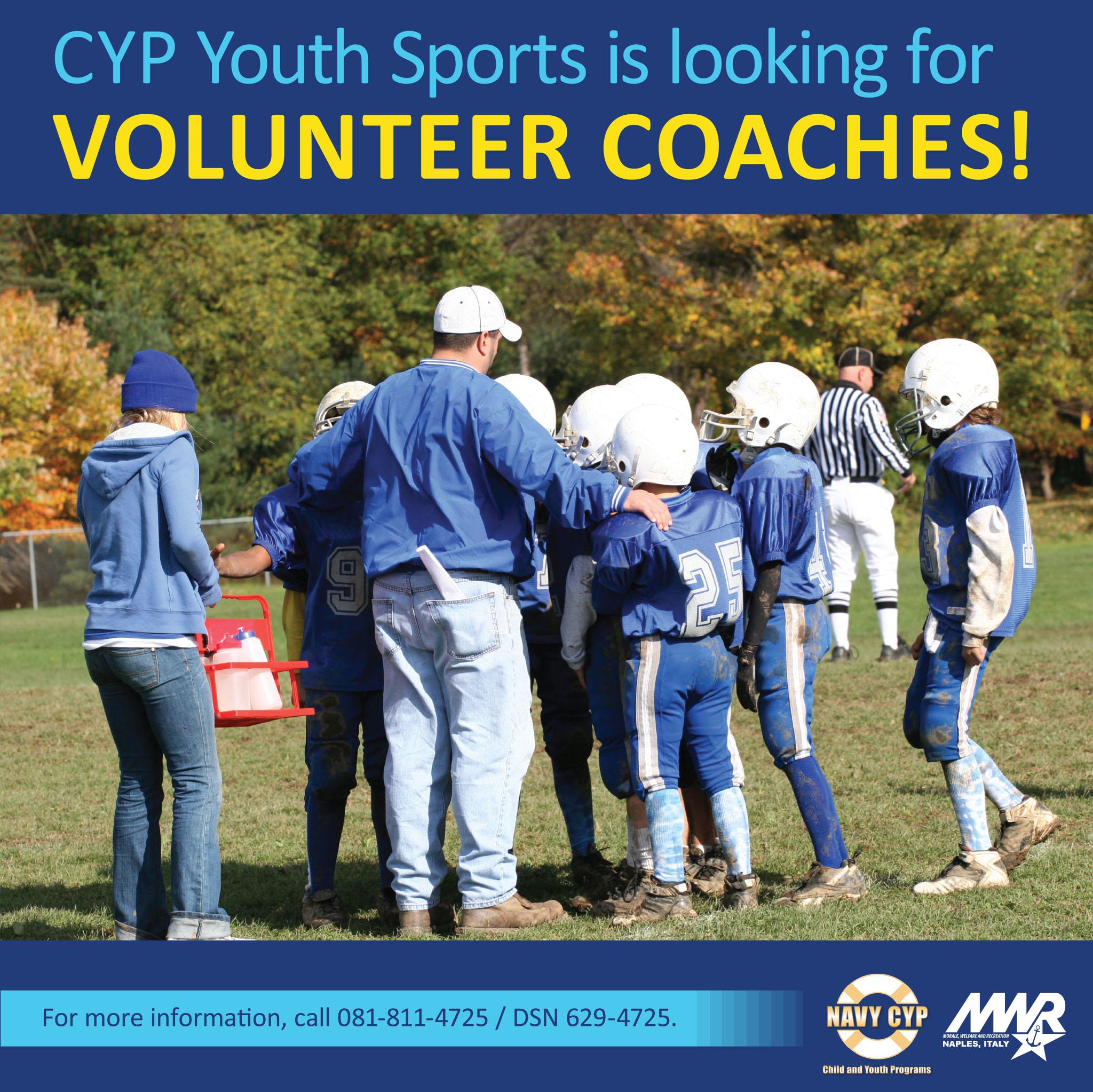 Did you play a sport or cheer in high school or college?
Do you want to help kids have fun?
CYP Youth Sports is looking for coaches!
The success of Youth Sports depends on volunteers. Our children -- ages 3 to 18 -- need volunteer coaches to help them play the games, learn skills and have fun. You don't have to be a parent, just someone who wants to be a part of the team helping children explore the world of sports.
Coaches are needed for the following age groups of children:
3-4 (Start Smart)
5-6 years
7-8 years
9-10 years
11-12 years
13-18 years
Coaches must be at least 18 and a U.S. citizen.
Note: While instructors are needed to lead the basics of soccer to 3- to 4-year-old kids, Start Smart is a child/parent focused program that requires frequent parent engagement during their child's Start Smart activities.
If you are interested in becoming a Youth Sports volunteer, please email fct.na.nsa.mwr_cyp@eu.navy.mil with the subject line Sport Volunteer Coach or call at DSN 629-4731.