Carney Park Seasonal Pool
Pool is open!
Pool eligibility
Carney Park pool is open to U.S. ID Card holders, Carney Park pass holders and guests (guest fee applies.)
Pool rules here.
Private parties
Carney Park and Support Site seasonal pools are available for private parties June 17-Aug. 21.
Pools may be rented on Friday, Saturday and Sunday, 7-9 p.m. Lifeguards are required at all parties.
Reservation deadlines
For parties up to 150 participants, reservations must be made at least 10 business days in advance. Parties with 150 or more participants, reservations must be made at least 14 business days in advance. If you wish to bring off-base guests, you must submit a base access roster to Security at least 14 business days before the event.
Fee
Cost of the party depends on the number of participants and the number of lifeguards required. See request form for details. Payment (cash or credit card) is due seven days in advance.
Request a party
To request a party, please complete the request form and email it to NSA Naples MWR Aquatics.
Party rules and regulations
Lifeguards are in charge at all times. Lifeguards have the authority to shut down any pool party that is out of control, in excess of allowable patrons or if patrons continually disregard lifeguard authority/instructions.
Person renting pool must be seasonal pool authorized user.
Renter must be at least 18 years old if active-duty military or 21 years old if civilian.
Dependent children are not authorized to schedule private pool party rentals.
Renter is responsible for all guests and their actions.
Renter is responsible for the overall cleanliness of the pool deck area and bathhouses during party and ensure pool deck and bathhouses are cleaned after the party.
Pool party attendees must be season pool authorized users and their sponsored guests only.
Pool water will be cleared 30 minutes before the party end time.
No glass is permitted on pool deck.
No alcohol is permitted.
Persons under the influence of alcohol/altering substances are prohibited from entering the facility. Unduly intoxicated persons will be asked to leave the facility.
For more information, call 081-811-6513 / DSN 629-6513, Wednesday-Sunday, Noon-7 p.m.
------------------------------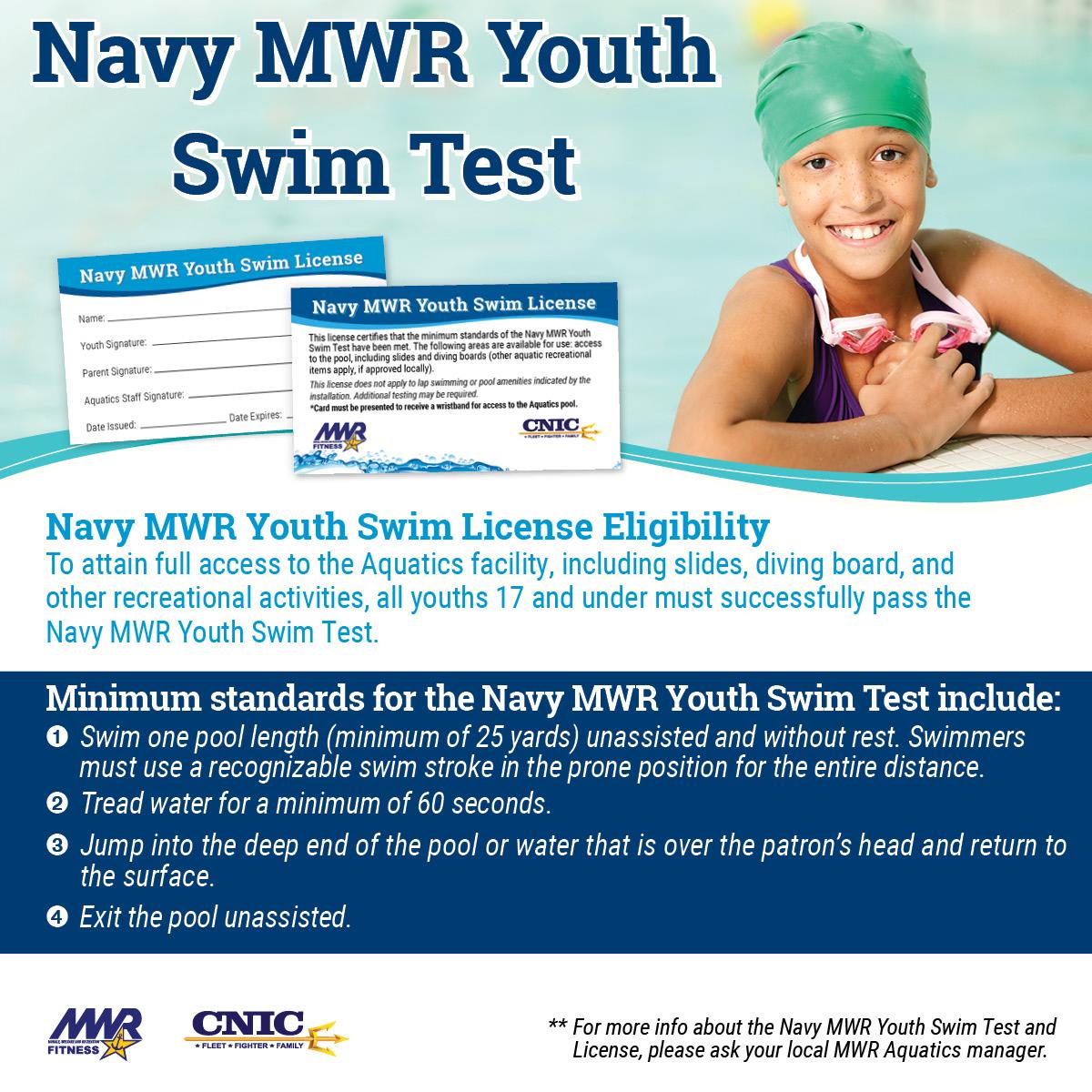 Navy Fitness Youth Swim Test
Swimmers ages 14-17 may receive a Navy Fitness Youth Swim License that allows them to attend the pool by themselves. This swim license is only issued with parental/guardian consent after the completion of a Navy Fitness Youth Swim Test. With the swim test, swimmers must demonstrate swimming of high excellence in order to swim alone.
In order to receive a swim license:
1. Parent/guardian must agree to the terms associated with the swim license and complete/sign a form.
2. Child must pass the swimming competency test while a parent or guardian is present. Child may only be tested once per day. Once the tester enters the water he/she cannot stop, stand or hold the wall or lane line until the completion of the test for the swim to be valid.
To pass the swim test, swimmers must demonstrate the following minimum standards:
• 25-yard swim unassisted without rest. Swimmer is required to use a recognizable stroke -- breaststroke or front crawl.*
• Jump into the deep end and return to surface
• Tread water for a minimum of 60 seconds
• Exit the pool unassisted
*During the front crawl stroke, the swimmer must demonstrate comfort with the face in the water, breathing either to the front or side. For front crawl, the arms must exit the water with full extension on each stroke and the swimmer may not pause or stop. During the breaststroke, the swimmer must remain at the top of the water with their face only exiting the water to breathe. The swimmer must take a breath every one to three strokes. No underwater swimming. Swimmer cannot doggy paddle while taking a breath and may not pause or stop during test.
If the lifeguard administering the test stops the swimmer, the test is over and no license will be issued.
Swim licenses are valid from day of obtaining it until opening day of the following summer season.
To enter the pool area unaccompanied, the child must present the swim license and a valid ID card at the pool front desk. The swimmer will be issued a wristband. Those who do not present an ID card with the swim license will not be issued a wristband. No wristband, no swimming alone.
Sharing a swim license with another child will result in revocation of all pool privileges for both children. Swimmers who forget their swim license may retake the swim test, with a parent present, in order to receive a new license.
It is expected that youth swimmers respect the rules of the pool facility, comply with lifeguard/management instructions and practice safe swimming at all times. Lifeguards and management reserve the right to revoke a child's swim license if pool rules or policies are not followed. Parents will be notified and the child must exit and be picked up from the facility immediately.
------------------------------

More details available here.
------------------------------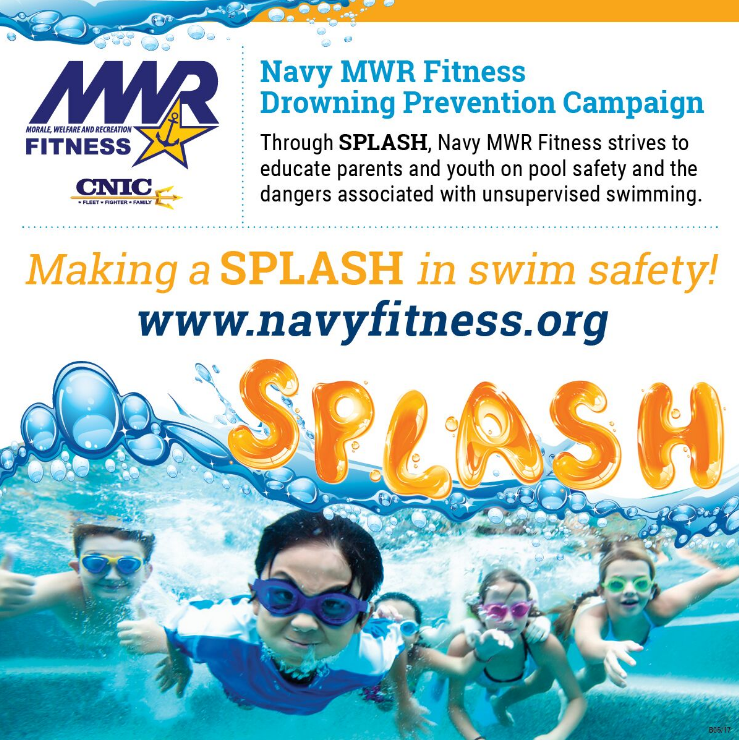 Navy MWR Fitness Drowning Prevention Campaign Through SPLASH, Navy MWR Fitness strives to educate parents and legal guardians on pool safety and the dangers associated with unsupervised swimming.
Stay within arm's reach.
Protect your non-swimmers.
Learn to swim.
Assess swim skills.
Swim safely.
Hang it up.
Keep your child safe at the Aquatics facility.
Read more at https://www.navyfitness.org/splash
------------------------------
Thunder and Lightning policy
In accordance with CNICINST 1710.3, the following is the inclement weather pool policy:
The Aquatic Coordinator, Swimming Pool Manager or Facility Supervisor may close the aquatic facilities for short periods of time without notice. Areas will be cleared of all persons during thunderstorms, electrical storms, and inclement weather. At the first sound of thunder or sight of lightning, the area will be cleared and remain cleared until deemed safe (approximately 30 minutes after the last rumble or sighting). One long blast on the whistle by the lifeguard is the emergency signal indicating all persons in the water shall clear the swimming area immediately.